Fall Arrest & Fall Prevention System Design
When you select GHB Fall Protection to design and engineer your fall protection system, you are guaranteed the following:
Qualified, knowledgeable engineers working on your fall protection project
Design of a wide variety of custom fall protection systems
Personal attention and impeccable detail
Consideration of OSHA, ANSI and other applicable safety standards
Timely Delivery
And more!
GHB Fall Protection has gained a reputation for knowledge, superior service and quality products. We are proud to have partnered with a large number of architects, property managers and general contractors to design and engineer a variety of fall protection solutions.
Example Drawing of an eye bolt roof anchor: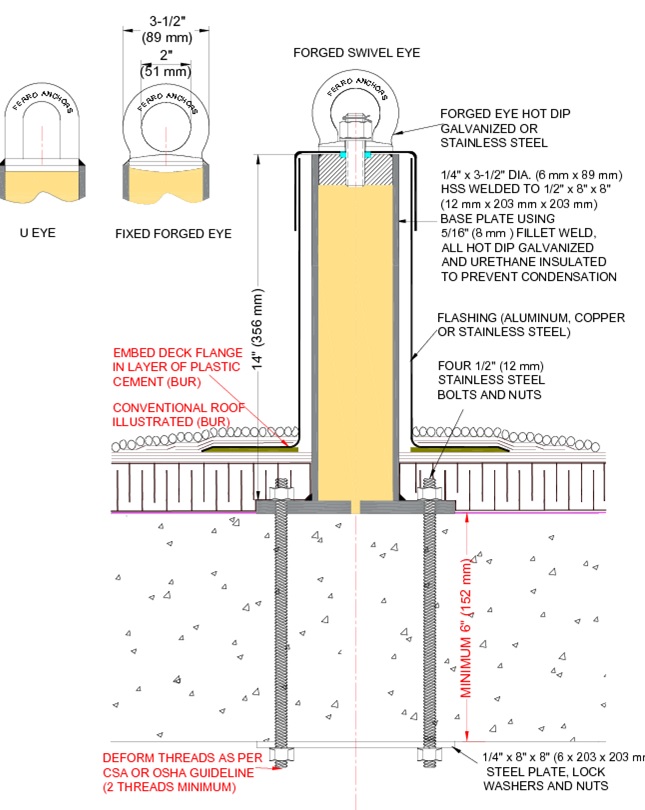 Did you Know? OSHA 1910:
(10) Anchorages to which personal fall arrest equipment is attached shall be capable of supporting at least 5,000 pounds (22.2 kN) per employee attached, or shall be designed, installed, and used as part of a complete personal fall arrest system which maintains a safety factor of at least two, under the supervision of a qualified person.

[contentblock id=2 img=gcb.png]